Mike Hahn is a trial attorney with a focus on construction, business, and regulatory matters. He has represented clients at all levels of the Wisconsin court system, and also has extensive experience in municipal and administrative law. Mike has helped guide clients through permitting and enforcement matters with local municipalities, the Wisconsin Department of Natural Resources, and the Department of Agriculture Trade and Consumer Protection. At the federal level, Mike has also represented businesses and employers through OSHA complaints and enforcement actions. Mike's wide range of experience also allows him to advise clients on matters before they become an issue.
Whatever the situation his clients are in, Mike's objective is always to get the best outcome possible. This means not only analyzing the legal aspects of his clients' needs, but also understanding his clients' goals. Mike uses his broad background in a variety of practice areas to achieve positive, cost-effective results.
A native of Clinton, Wisconsin, Mike has strong ties to Rock County. While attending the University of Wisconsin-Madison, Mike enlisted in the Wisconsin Army National Guard in 2001 and served with the 1158th Transportation Company headquartered in Beloit. Before graduating from UW with degrees in history and political science, Mike served two deployments with the National Guard in support of Operation Iraqi Freedom, one of which was overseas to Kuwait and Iraq in 2004-05. After college, Mike served another tour to Kuwait and Iraq with the United States Army, and then worked as a safety manager for a utility construction company in De Pere, WI. Mike attended the University of Wisconsin Law School and graduated cum laude in 2014. After law school, Mike served as clerk for the Wisconsin Supreme Court.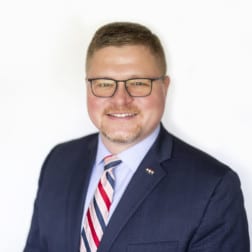 Education
University of Wisconsin Law School, J.D., 2014
University of Wisconsin-Madison, B.A., 2010
---
GET IN TOUCH
The service you expect, the solutions you need.
The attorneys and staff at Nowlan are ready to answer your questions and offer timely assistance. No question is too small, no request too insignificant. We are here to help. We look forward to hearing from you and working together.
---
---